AL Emad Car Rental In Dubai Is Your Gateway to a Seamless Car Rental Experience in Dubai Dubai, the vibrant metropolis that has captivated the world with its towering skyscrapers, sprawling deserts, and luxurious lifestyle, offers an array of experiences that cater to every taste and preference. Whether you're an adventurer seeking to explore the city's hidden gems or a business traveler seeking efficient transportation, Alemad car rental is your one-stop solution for a seamless and memorable journey.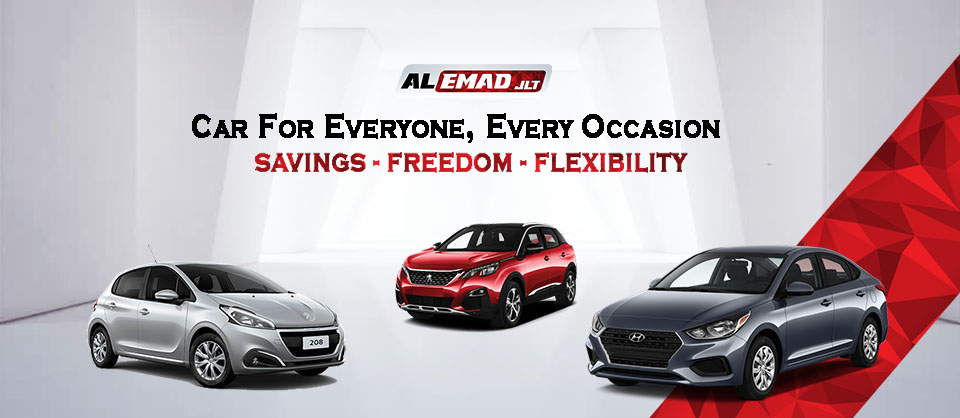 Your Trusted Partner for Car Rentals in Dubai

At Alemad, we understand that renting a car should be a seamless and personalized experience, one that complements your travel plans and seamlessly integrates into your Dubai adventure. With over a decade of experience in the car rental industry, we have established ourselves as a trusted partner for both tourists and residents seeking reliable and affordable car rentals in Dubai.
Our Fleet: A Diverse Range of Vehicles to Suit Every Need

Our extensive rental fleet comprises over 1000 vehicles, carefully curated to meet the diverse needs of our discerning clientele. From compact hatchbacks ideal for navigating the city's bustling streets to spacious SUVs perfect for exploring the desert's rugged terrain, we have a vehicle that aligns with your specific requirements.
Unmatched Quality and Competitive Prices
We pride ourselves on offering a selection of high-quality vehicles from renowned brands, including Nissan, Hyundai, and Toyota. Our commitment to quality extends beyond our fleet; we offer competitive rental prices that cater to a wide range of budgets. Our daily rates start at just AED 60 per day, ensuring that you can experience the luxury of car rental without breaking the bank.
Short-Term and Long-Term Rentals: Flexibility at Your Fingertips
At Alemad, we recognize that our customers have diverse rental needs. Whether you're seeking a short-term rental for a quick city break or a long-term rental for extended business travel, we have flexible rental options tailored to your specific requirements.
Our Budget Rent a Car Service: Car Rentals for Every Traveler
Our budget rent a car Dubai service is designed to make the convenience of car rental accessible to everyone. This service is available to both tourists and residents within the country who are at least 22 years of age.
Exceptional Customer Service: Your Satisfaction is Our Priority
At Alemad, we believe that exceptional customer service is the cornerstone of a truly memorable rental experience. Our friendly and knowledgeable customer support team is available 24/7 to assist you with any questions or concerns you may have.
Embark on Your Dubai Adventure with Alemad
Whether you're a first-time visitor or a seasoned traveler, Alemad car rental is your gateway to a seamless and enjoyable car rental experience in Dubai. Our wide selection of vehicles, competitive prices, and exceptional customer service ensure that your journey through this captivating city is nothing short of extraordinary.
Contact Us Today
Browse through our extensive inventory today and choose a vehicle that aligns with your needs. If you require assistance, contact our friendly customer support team at +971-56-680-3692. We look forward to being your trusted partner on your Dubai adventure.