If you're planning to visit Dubai, we suggest renting a car for the duration of your time in the city. It will facilitate swift navigation throughout the Emirate and free you from the inconvenience and expense of public transport. Additionally, a rental car will allow you to explore not only Dubai but also Abu Dhabi, Sharjah, and the other Emirates within the UAE. For first-time visitors, renting a car in Dubai can be a little intimidating. There are countless rental agencies in the city. Prices, fleet, and customer service vary wildly from agency to agency. As such, finding one you can trust can be a challenge. In this article, we're going to be outlining some helpful car rental tips to guide first-time Dubai tourists towards car rental agencies they can trust.

Book in Advance
Dubai is a densely populated city. Many of its residents choose to rent cars as opposed to purchasing them, especially when they travel out of the Emirate. Add to this the many tourists who rent vehicles in the city every day, finding a rental car in Dubai on short notice is virtually impossible. For this reason, we encourage anybody visiting the Emirate to book their vehicle in advance. By doing so, you are guaranteed to have a car from the moment you arrive in Dubai, without the stress and high costs of trying to rent one on short notice.
Always Read Reviews
One of the most significant advantages of booking your rental car in advance is that it allows you to make a more calculated decision. If you find a rental agency online that seems like it may be able to meet your needs, take some time to read reviews from past clients. If positive reviews are scarce, you should, of course, avoid that agency. Similarly, if you can't find any credible testimonials of a particular rental company, you can assume something is not right.
Search for Comprehensive Packages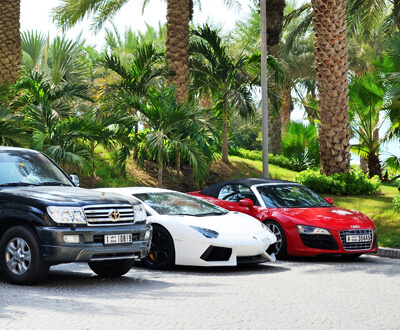 Some car rental agencies in Dubai provide their customers with a vehicle and nothing else. It means that their customers are left without insurance, breakdown assistance, and even customer support should they have a question. While renting from such an agency may save you some money, it isn't worth sacrificing the peace of mind provided by a more comprehensive package. We encourage any driver in Dubai to rent a vehicle that is backed by useful features, such as insurance, service, and collection/drop-off.
Do Not Declare Multiple Drivers
In Dubai, car rental agencies often base their fees on the number of people who will be driving a rented vehicle. If you visit the city with your partner and declare that you will both be driving your chosen car, the agency will likely charge a higher fare. For this reason, you should state that only a single person will be driving the vehicle. Also, we advise against adding a second driver without informing your rental agency. If an accident should occur while an unlisted party is driving your car, you are unlikely to be covered by insurance and may face additional financial penalties.
Speed Isn't Everything!
While Dubai's many sports cars are visually impressive, they often sacrifice crucial features for the sake of increased acceleration. As such, you may find a sports car that can satisfy your need for speed but is ultimately a total inconvenience. When you're searching for a rental car, keep things simple. Prioritize leg and headroom, especially if you're traveling with your family. You'll also want quality air condition, given the high temperatures of Dubai. A robust navigation system will also prove useful if you are a first-time driver in Dubai and unfamiliar with the city's roads.