Given how Dubai takes pride in itself as being the city of the future, it should come as no surprise that it encourages a mostly cashless society. Many restaurants and merchants in Dubai refuse to accept cash, even for relatively small purchases. The same can be said of car rental agencies in the city. If you're planning to rent a car in the UAE, the chances are that you will be permitted to pay in cash are slim. A credit card is the preferred method of payment by most of the UAE's car rental agencies. In this article, we're going to be discussing everything you need to know before using your credit card to rent a car in Dubai.

Debit Is Not Credit
It may seem like accounting 101, but many people mistake debit and credit cards. You may even encounter "credit card" used as a synonym for "debit card" and vice-versa. However, when car rental agencies in the UAE say, "credit card," they mean it. Many agencies refuse to accept payment via debit card — those who do generally apply additional fees and paperwork. If you don't already have a credit card, be sure to secure one before your trip to the UAE as your debit card won't do.
Why Is A Credit Card So Important?
So why are Dubai's car rental agencies so reluctant to accept anything but a credit card? It can be narrowed down to how easy it is to secure payment via a credit card. Even if the driver ultimately doesn't have the funds to cover their rental, the rental agency can be more or less confident that they will receive payment. With a debit card, however, the rental agency will only receive their fee if the renter has the necessary funds already at their disposal.
In the Name of the Driver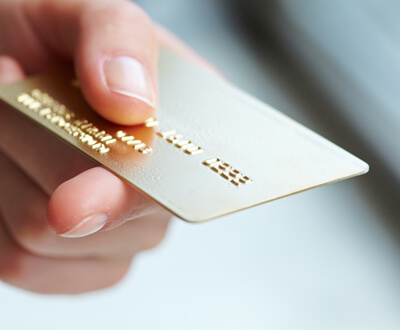 When you rent a car in the UAE, you will be asked to declare a primary driver. It is the person who will be driving the vehicle for the majority of the rental period, if not the entirety. Most car rental agencies in the country refuse to accept a customer's credit card if it is not in the name of the main driver. It is because the main driver is legally responsible for the vehicle throughout the lease, which means payment must be made under his name.
Booking Online
Most of the UAE's car rental agencies have an online presence. It allows drivers to book their vehicles in advance. Even if you enter your credit card details online, you are required to present your credit card in person. It will allow the rental agency to confirm that the person who booked a specific vehicle online is the same person who drives it out of the garage. You could, in theory, use two separate credit cards when you book and collect your vehicle. However, both will have to feature your name.
Required Documents
As mentioned above, when using a credit card to rent a car, you must present a credit card in your name. However, you will also be asked to produce several additional documents. These include a valid driver's license and a secondary form of photo identification. If you had placed your booking online, you would be required to present your booking confirmation. While some car rental agencies in the UAE may insist on a physical copy of your booking confirmation, most will be just fine with a screenshot.